Methodenkompetenz
Sie verstehen den Weg zum Ziel häufig als Prozess, der aus der Summe vieler guter technologischer und organisatorischer Entscheidungen besteht. Diese Entscheidungen werden an vielen Stellen im Unternehmen und in Projekten getroffen. Es gilt, die richtige Dinge auch richtig zu tun.
Effektivität ist, die richtigen Dinge (richtig) tun. Effektivität ist ein Maß für die Zielerreichung (Wirksamkeit, Qualität der Zielerreichung), also die strategische Komponente. Effektivität ist wichtiger wie Effizienz. Das verlangt Weitsicht, wissen wohin die Reise geht, wissen wie die Reise vonstatten geht, wissen was und wo das Ziel ist, wissen wer diese Reise initiiert und warum, wissen was in jedem Schritt des Prozesses z.B. eines IT-Projekts die richtigen Dinge sind.
Effizienz ist, die (richtigen) Dinge richtig tun. Effizienz ist ein Maß für die Wirtschaftlichkeit (Kosten-Nutzen-Relation), also die taktische, operationale Komponente. Effektivität ist wichtiger wie Effizienz. Es macht keinen Sinn das Falsche im Detail effizient zu lösen. Effizienz ist eng mit Erfahrung, Disziplin und Hartnäckigkeit im Detail verknüpft. Effizienz fällt nicht einfach vom Himmel. Effizienz in einem Projekt bedeutet jedes bedeutende Detail darauf hin zu gestalten, untersuchen, hinterfragen, messen; letztendlich genügend Erfahrung zu haben und Bescheid zu wissen um Effizienz zu beurteilen.
Agilität und
Projekt Management
Moderne Vorgehen in Umgebungen, deren Anforderungen oder Randbedingungen nicht einigermassen vollständig sind, werden sinnvollerweise Agil durchgeführt.
Viele Mitarbeiter, Prozesse, Soft-Skills, Werkzeuge und Techniken in Unternehmen sind darauf nicht vorbereitet.
Wir helfen Ihnen beim Projekt-Setup und begleiten diese bis zum Erfolg.
Agilität und
Requirements Engineering
Requirements Engineering in einer agilen Umgebung ist eine echte Challenge, da sich seitens der Inhalte existenter Zertifizierungen ein ordentliches Vorgehen auszuschliessen scheint.
Wir sind erfahrene Spezialisten, die die methodische und prozesseitige Adaption an agile, etablierte Vorgehen, Industrie-Standards und gleichzeitig Ihr Unternehmen und Ihr Geschäft verstehen.
Wir helfen Ihnen, dies richtig zu tun.
Design Thinking und
Solution Engineering
Design Thinking (Urheber: Stanford) ist für uns ein Requirements Engineering Vorgehen, bei dem Peer Teams (so leben wir es) innerhalb bspw. 1 ½ h eine innovative Produktvision und erste Epics entwickeln.
Es ist ein intensiver, über 9 Schritte im Timebox geführtes Solution Engineering konkurrenzierender Peers um diese Vision.
Ein Prototyp visualisiert diese Vision.
Webinare und
Trainings
Wir halten Webinare zu Themen die wir aufgrund unsere Eigenschaft als Unternehmer selbst gelöst haben und unsere Erfahrung somit weitergeben oder Seminare und Webinare zu Themen, die wir professionell beraten.
Wir verwenden die Plattform edudip.de, die aufgrund ihrer Einfachheit und Funktionalität sehr gut geeignet ist. Unsere methodisch orientierte edudip Akademie enthält somit ein breites Spektrum an ausgewählten Themen.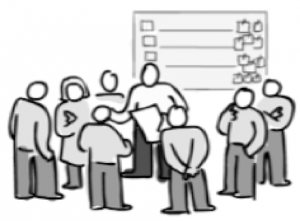 PMI-ACP® exam prep
Seminar/Webinar
We and STS SA provide an extraordinary exam preparation for the PMI-ACP® certification about 30*1 h webinars or 7*3 h evening seminars, a questions catalog and exam simulations based on X-AM.
Learn how PMI wants to get questions to be answered. Your understanding might conflict with the view of PMI or the authors. These 12 reference books about 5000 pages on Agility have no common coordinated understanding and stay partly in conflict.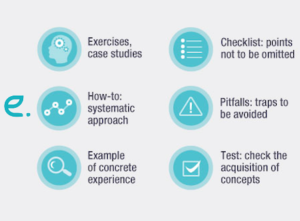 eLearning
Agility
On-demand eLearning methods from STS SA are an efficient way to acquire knowledge, concepts, tools and techniques of project management at your own pace.
STS and we as the main author provide a well-balanced mix of theory, exercises, examples, videos and checklists make diversified learning experience. The courses are also particularly well suited for integration into blended learning programs.
Excellente Methoden. Exzellente Ergebnisse.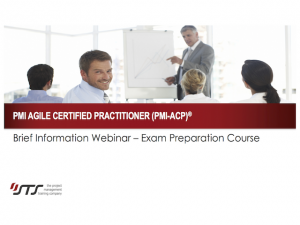 Successful Certification Prep.
PMI-ACP, PMP Agile Practice
Exam Prep   •   Deep, Targeted
Our webinars offer either the entire PMI-ACP exam prep (16 lessons = 30 * 1h sessions) or a selected topic (1 lesson) for participants. The webinars will be held by us as a coach and will be provided per session additionally as video recording. Each lesson references a specific number of questions in the X-AM for self-study. Each session consists of 45 min. of training and 15 min. of Q&A.
The class decides on the schedule; however it is recommended to do 2-3 webinars per week. We promote community learning during the webinar through a forum and collaboration.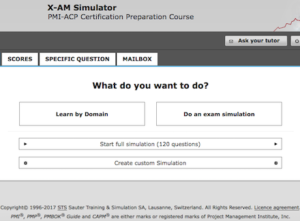 Question Catalog X-AM
for PMI-ACP, PMP Agile Practice
Practice Exam   •   Simulation, Monitored
STS SA and we to provide a question catalog to be possibly the largest in the world with 1200+ questions, 20 dynamic exam simulations.
The catalog X-AM PMI-ACP® is available Online at STS Certification Tools.
We extracted from the material of 12 reference books (5000 pg.) the relevant questions.  ½ of the 1200+ questions refer directly to the books (chapter, paragraph, quotation). 20 real exam simulations sharpen your exam preparation.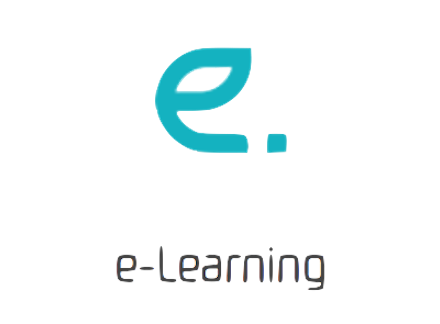 eLearning of STS SA
on the topic of Agility
Easy • Intuitive • Deep
Agility Best Practice eLearning is an essential online learning product of STS SA and us. We are responsible for all content matters of agility (CSM, CSPO, PMI®, SAFe®, …). The product includes the following characteristics:
Comprehensive theory,
Example of concrete experience,
Exercises and case studies,
Checklists on points not to be omitted,
Systematic How-to-approach,
Pitfalls traps to be avoided,
Tests to check the acquisition of concepts.
Artificial Intelligence
Intelligente Regler
Energie-Regler   •   Auskunftsfähig, Geführt
Im Bereich der Energiewirtschaft bieten auskunftsfähige Regler, die künstlich intelligent genug sind, das Verhalten seiner Verbraucher und seiner Regelalgorithmen zu kennen, eine neue Qualität.
Zum einen liefern sie eine Prognose, die dem Erkenntnisstand des verantworteten Objekts entspricht, die z.B. den Energieeinkauf optimiert, zum anderen sind sie entscheidungsfähig, einen anderen Fahrplan wie den Prognostizierten unter Bedingungen zu akzeptieren und diesen verantwortlich zu führen.
Föderative Architektur
Kollaboratives ICT-Konzept
Aufwand und Nutzen   •   Flexibles Framework
Eine föderative Architektur in der ICT lebt von einem grundlegenden Design von Objekten (Eigenschaften, Verhalten) und Beziehungen, die die wesentlichen Eigenschaften des Gesamtsystems repräsentieren. Gleichzeitig sind diese Eigenschaften jedoch individuell von jedem Teilnehmer der Föderation geregelt und verschieden implementierbar.
Anwendungsfälle sind abstrakte Strukturen von bspw.:
– Service – Produkt – Tarife
– Sensoren – Regler – Aktoren
– Partner – Service – Regulatoren
SMART-Design
Ears and Eyes on Demand
Smartphone App    •    Hör- und Sehbehinderte
So verschieden die spezifischen Behindertengruppen auf den ersten Blick erscheinen, so haben sie doch vieles gemeinsam, wenn man die unterstützende ICT betrachtet. So ist es vor allem die Nutzbarkeit des Smartphones und der erforderliche Geräte die den Unterschied ausmachen. Der dahinter liegende Dienst ist jedoch verschieden.
Für die gehörlos Behinderten sind Dolmetscher mit Gebärdensprachenausbildung erforderlich. Für Sehbehinderte muss die App smarter sein. SMART-Design ist ein methodisches Merkmal.
Unsere Partner, Organisationen und Lieferanten